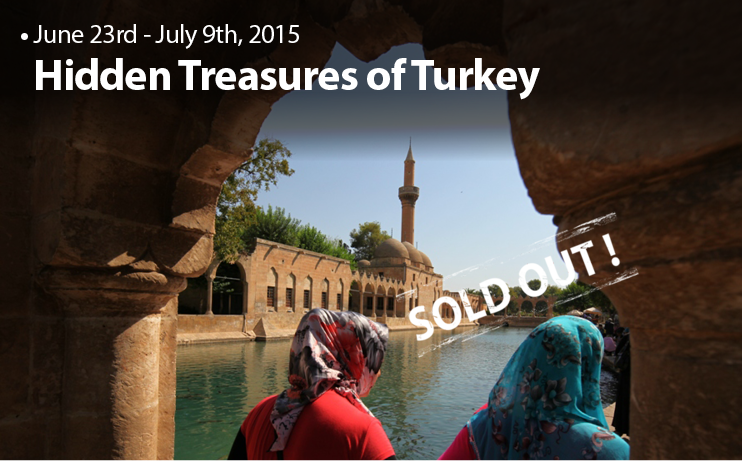 Hidden Treasures of Turkey with the East (June 23 – July 9, 2015)
Day 1; June 23rd, Tuesday: Arrive in İstanbul, Turkey
Arrival
Transfer to the hotel
Included welcome dinner at a local restaurant
Overnight at Richmond Hotel in İstanbul or similar
Day 2; June 24th, Wednesday: Classical İstanbul City Tour
Hagia Sophia
Topkapı Palace (Harem section is excluded)
Grand Bazaar
Lunch and dinner excluded
Overnight at Richmond Hotel in İstanbul or similar
Day 3; June 25th, Thursday: İstanbul Sightseeing – Fly to Van ✈
Chora Museum
Transfer to the airport
Included lunch at a local restaurant
TK 2750 to Van at 01.55 PM, arrive at 04.00 PM
Van Fortress
Included dinner at a local restaurant
Overnight at Elite World Van or similar
Day 4; June 26th, Friday: Van Sightseeing
Akdamar Island
Included lunch at a local restaurant
Urartian and Armenian silver art gallery
A breeding center for the Van cat
Çavuştepe site
Included dinner at a local restaurant
Overnight at Elite World Van or similar
Day 5; June 27th, Saturday: Van – Overland to Kars
Muradiye Falls
Mount Ararat
Included lunch at a local restaurant
İshak Paşa Palace
Dinner and overnight at Çeltikov in Kars or similar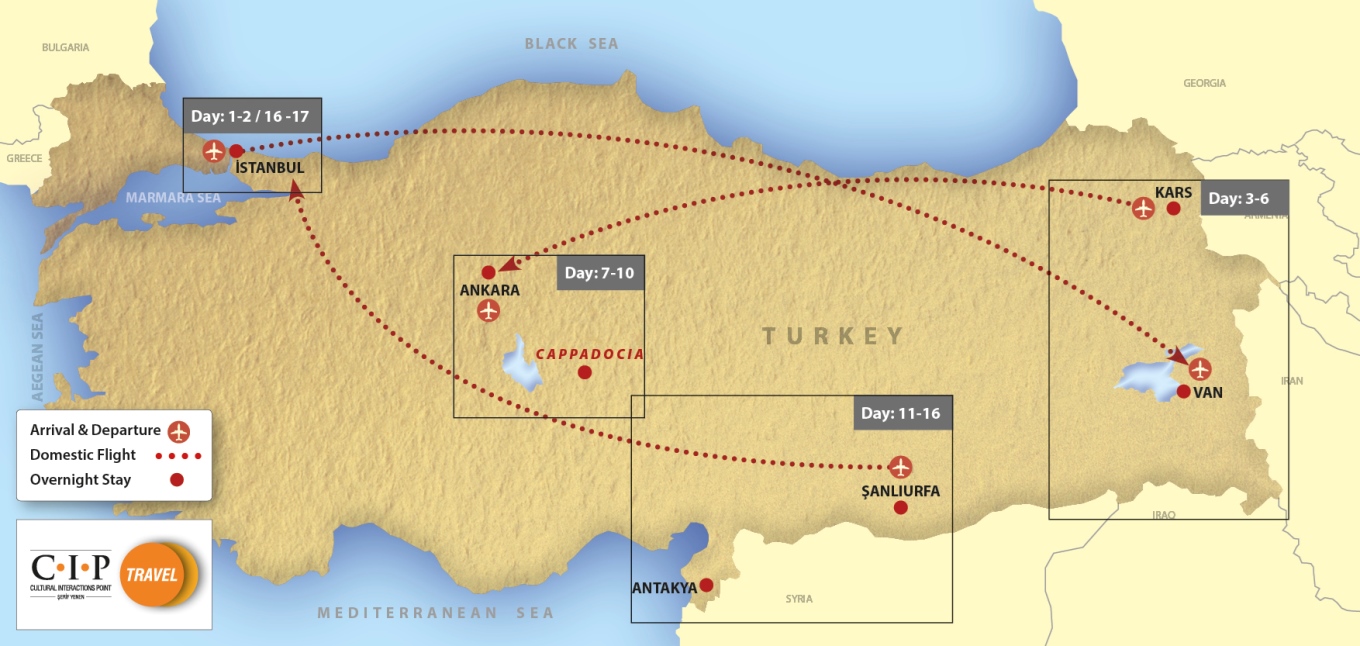 Day 6; June 28th, Sunday: Kars
Ani Ruins
Included lunch at a local restaurant
Kars Old City Center: Church of the Apostles, the Castle of Kars
Cheese tasting
Included dinner at a local restaurant
Overnight at Çeltikov in Kars or similar
Day 7; June 29th, Monday: Kars – Fly to Ankara ✈
Transfer to the airport
TK 7091 to Ankara at 11.10 AM, arrive at 12.55 PM
Museum of Anatolian Civilizations
The Mausoleum of Atatürk
Lunch excluded
Dinner and overnight at Divan Çukurhan in Ankara or similar
Day 8; June 30th, Tuesday: Ankara – Overland to Cappadocia
Hattusha
Yazılıkaya
Included lunch at a local restaurant
Dinner and overnight at Yunak Evleri in Cappadocia or similar
Day 9; July 1st, Wednesday: Cappadocia
Full day Cappadocia sightseeing
An underground City
Avanos Pottery Village
Lunch excluded
Whirling Dervishes ritual
Included dinner at a local restaurant
Overnight at Yunak Evleri in Cappadocia or similar
Day 10; July 2nd, Thursday: Cappadocia (Optional Hot Air Balloon Ride)
Full day Cappadocia sightseeing
Göreme Open Air Museum
Hike for 2 hours
Lunch excluded
Included dinner at a local restaurant
Overnight at Yunak Evleri in Cappadocia or similar
Day 11; July 3rd, Friday: Cappadocia – Tarsus – Antakya
Tarsus: St. Paul's Well, the ancient road
Included lunch at a local restaurant
Included dinner at a local restaurant
Overnight at Çankaya Konakları in Antakya or similar
Day 12; July 4th, Saturday: Antakya
Sightseeing Antioch: Cave-Church of Saint Peter
Antakya Museum
Included lunch at a local house (home-hosted)
Walking tour in town
Included dinner at a local restaurant
Overnight at the Çankaya Konakları in Antakya or similar
Day 13; July 5th, Sunday: Hatay – Gaziantep – Şanlıurfa
Zeugma Mosaic Museum
Included lunch at a local restaurant
Boat cruise at Halfeti Dam Lake
Included dinner at a local restaurant
Overnight at Hilton Garden Inn Şanlıurfa or similar
Day 14; July 6th, Monday: Şanlıurfa – Kahta – Şanlıurfa
Nemrut
The ruins of the Arsemia, Roman bridge of Cendere and Royal tomb of Karakuş
Included picnic lunch
Dinner at a local restaurant
Overnight at Hilton Garden Inn Şanlıurfa or similar
Day 15; July 7th, Tuesday: Şanlıurfa – Göbeklitepe – Harran – Şanlıurfa
Göbeklitepe
Harran: the ancient Islamic university, its fortress and its charming beehive houses
Lunch excluded
Farewell dinner at a local restaurant
Overnight at Hilton Garden Inn Şanlıurfa or similar
Day 16; July 8th, Wednesday: Şanlıurfa – Fly to İstanbul ✈
Şanlıurfa tour: the Pool of Sacred Fish, the Great Mosque and the bazaars
Transfer to the airport
TK 2247 to İstanbul at 12.10 PM, arrive at 02.05 PM
Bosphorus Cruise
Süleymaniye Camii
Lunch and dinner are excluded
Overnight at Richmond Hotel in İstanbul or similar
Day 17; July 9th, Thursday: İstanbul & Departure
* Included Services:
Accommodation for 16 nights in above mentioned hotels or similar
Airport transfers for arrival and departure in Turkey
Professional tour guide services in English by Şerif Yenen
Air conditioned deluxe vehicle with a driver all along the tour
Vehicle expenses (i.e. parking, tolls, highways)
Domestic flight tickets from İstanbul to Van, Kars to Ankara and from Şanlıurfa to İstanbul
16 breakfasts at the hotels
7 lunches at local restaurants, 1 home-hosted lunch and 1 picnic lunch
3 dinners at local restaurants and 11 dinners at hotels
All visits stated in the itinerary
All entrance fees to the sites, museums and religious places indicated in the itinerary
Whirling Dervishes ritual
Bosphorus Cruise
Tips to the hotels with porter services
Tips to the restaurants for included meals
Complimentary copies of some of Şerif Yenen's publications
Local taxes and service charges
* Services not included:
International flights to/from Turkey
Meals not stated
Beverages with meals
One hour hot-air balloon ride in Cappadocia (optional)
Personal expenses
Gratuities for the guide and driver
Insurance
Departure and airport taxes and fees (No similar taxes or fees are required for Turkey)
Passport and visa services and fees
Other than mentioned above
* Hotels:
* Depending on availability there may be hotel changes. C.I.P Travel assures to accommodate you at the hotels with same standards.
Important notes:
Travel on an intimate, expert-led luxury small group journey.
Pre or post trip extensions can be tailor made upon request.
Ladies should bring scarves with them to cover their heads when visiting religious sites and mosques.
All foreigners must obtain their Turkish visas from Turkish missions abroad or from the e-visa application system, depending on eligibility. Please note, e-visas are easier to get.
Information regarding Turkish e-visas and the application process can be found at: www.evisa.gov.tr/en ↗
General information on Turkish visas can be found at:
www.mfa.gov.tr/visa-information-for-foreigners.en.mfa ↗
CIP Travel has always the right to modify the program according to the upmost satisfaction of the guests.
We will disclaim any responsibility and shall not pay any indemnity or reimbursement in the event of certain museums or monuments included in the program could not be visited with any reason beyond our control.
* This tour is organized by Acacia Exclusive Travel (TÜRSAB No: 7851) for C.I.P Travel Services