Serif's Live Virtual Tours
You would like to connect with a new destination, but cannot travel there? Expert guide Serif Yenen is now delivering virtual guided tours so you can meet him online and explore Istanbul or elsewhere in Turkey, from your home.
Serif's virtual tours are accompanied with breathtaking visuals. He can customise these virtual tours privately for your members, employees or associates.
In cooperation with translation companies, these virtual tours can be conducted with simultaneous translation into many other languages.
Below are some selections from Serif's live virtual tours. He can customise more sights for you.
Hagia Sophia,
Chora Church,
Topkapi Palace,
Blue Mosque,
Süleymaniye Mosque,
Cisterns of Istanbul,
Byzantine Istanbul
Ottoman Istanbul,
Göbekli Tepe,
Ephesus,
Ankara Anatolian Civilisations Museum
Flavours of Anatolia
Live Seminars or Lectures with Serif Yenen
Here are some ideas about possible seminar topics:
Anatolian Civilisations and History of Anatolia (5 or 6 parts)
Wonders of Anatolia (Unknown or lesser known surprising facts about Anatolia, 3-4 parts)
Human History and Göbekli Tepe (1, 2 or 3 parts)
From Byzantion to Istanbul (History of Istanbul, 1 or 2 parts)
Byzantine Constantinople
Ottoman Istanbul
Highlights in Istanbul (1, 2 or 3 parts)
Istanbul Unveiled (Unknown parts of Istanbul, 1 or 2 parts)
Delicious Istanbul (A journey on Istanbul food, from street food to traditional dishes)
Flavours of Anatolia
Serif can customise more topics for you.
Some Examples of Serif's Live Virtual Tours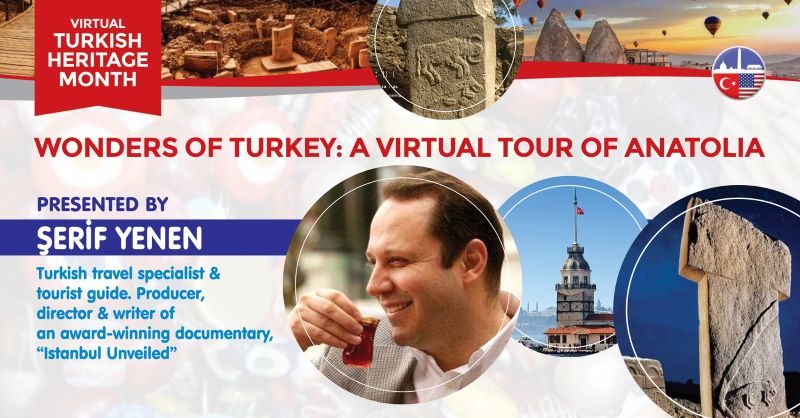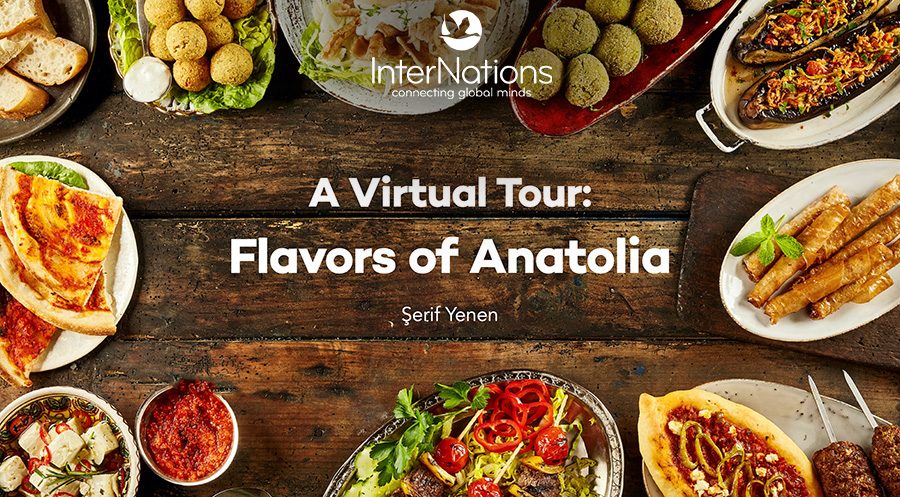 Selections from Serif's Online Presentations and Live Virtual Tours:
Smithsonian Associates, Washington DC ↗
The Wonders of Ancient EphesusLive from Istanbul
Wednesday, November 17, 2021 – 12:00 p.m. to 1:15 p.m. ET
(https://smithsonianassociates.org/ticketing/tickets/wonders-of-ancient-ephesus ↗)
Smithsonian Associates, Washington DC ↗
Topkapı Palace
The Sultan's Opulent Seat of Power
Live from Istanbul
Friday, May 28, 2021 -12.00 pm ET
(https://smithsonianassociates.org/ticketing/tickets/topkapi-palace-sultans-opulent-seat-of-power ↗)
Rotary Club ↗
Hagia Sophia and Underground Structures in Istanbul (with Serif Yenen)
Tuesday, May 25, 2021 -19.30 pm CET / 20.30 Turkey
Smithsonian Associates, Washington DC ↗
The Mystery of Ancient Megalith Göbekli Tepe
April 28, 2021
(https://smithsonianassociates.org/ticketing/tickets/mystery-of-ancient-megalith-g-bekli-tepe ↗)
Skål International İstanbul ↗
Human History & Göbekli Tepe
April 23, 2021
Rotary Club ↗
The Mystery of Ancient Göbekli Tepe: Zero Point in Time
Tuesday, March 30, 2021 -19.30 pm CET / 20.30 Turkey
Turkish Culture and Tourism Office in Stockholm ↗
Highlights in Istanbul
March 24, 2021
InterNations ↗
Flavours of Anatolia
Virtual Tour with Serif Yenen
March 2, 2021
Turkish Culture and Tourism Office in Stockholm ↗
Chora: The House of Frescoes & Mosaics
February 24, 2021
InterNations ↗
Secret Underground Istanbul Virtual Tour with Serif Yenen
February 3, 2021
Mercedes-Benz ↗
İnsanlık Tarihi ve Göbeklitepe
January 26, 2021
Skål International İstanbul ↗
İnsanlık Tarihi ve Göbeklitepe
January 26, 2021
Turkish Culture and Tourism Office in Stockholm ↗
Hagia Sophia, More than a Temple
January 26, 2021
Mercer ↗
Welcome to Brighter
Göbekli Tepe ve İnsanlık Tarihi
December 30, 2020
Muktamar IMSA-MISG ?????? ↗
Annual Islamic Conference & Activities
Virtual Tour of Istanbul
December 25, 2020
Yıldız Holding ↗
Göbekli Tepe ve İnsanlık Tarihi
December 24, 2020
Turkish Tourism Office in Stockholm ↗
Göbekli Tepe: Zero Point In Time
December 22, 2020
25th Boston Turkish Festival: "Colors of Anatolia" ↗
A Virtual Tour of Flavors of Anatolia with Serif Yenen
December 13, 2020
www.bostonturkishfestival.org ↗
AstraZeneca Turkey ↗
Göbekli Tepe ve İnsanlık Tarihi
December 1, 2020
Castrol Seyahatname ↗
Göbekli Tepe Gezisi
November 20, 2020
25th Boston Turkish Festival: "Colors of Anatolia" ↗
A Virtual Tour of Kariye Mosque (Chora Church) by Serif Yenen
November 8, 2020
www.bostonturkishfestival.org ↗
25th Boston Turkish Festival: "Colors of Anatolia" ↗
A Virtual Tour of Hagia Sophia (Ayasofya) by Serif Yenen
October 31, 2020
www.bostonturkishfestival.org ↗
American Turkish Association of Washington DC – ATADC ↗
Virtual Turkish Heritage Month Kick-off Event
Wonders of Turkey: A Virtual Tour of Anatolia
September 27, 2020
https://fb.watch/2L-SAUuUOz/ ↗
YKKD ↗
Yönetim Kurulunda Kadın Derneği (www.yonetimkurulundakadin.org)
Göbekli Tepe ve İnsanlık Tarihi
May 25, 2020
You Can Watch Serif's Live Virtual Tours