Serif Yenen is an international speaker who gives comprehensive lectures about Turkey. Topics include Anatolian Civilizations, Places of Interest in Turkey, the Ottoman Dynasty, Interesting Facts about Turkey and Turkish Culture, and a wide range of subjects. These lectures are delivered at schools, universities, museums, libraries, cruise ships and tour companies.
He has lectured at the Smithsonian (Washington D.C.) quite a few times (seven so far). He has also been a guest speaker for the Penn Museum in Philadelphia, the Boston University, the University of Washington, the American Turkish Societies, the Boston Cultural Festival, Stormont Parliament Building in Belfast, various libraries and many more places.
Selections from his popular topics:
Anatolian Civilisations and History of Anatolia (5 or 6 parts)
Wonders of Anatolia (Unknown or lesser known surprising facts about Anatolia, 3-4 parts)
Human History and Göbekli Tepe (1, 2 or 3 parts)
From Byzantion to Istanbul (History of Istanbul, 1 or 2 parts)
Byzantine Constantinople
Ottoman Istanbul
Highlights in Istanbul (1, 2 or 3 parts)
Istanbul Unveiled (Unknown parts of Istanbul, 1 or 2 parts)
Delicious Istanbul (A journey on Istanbul food, from street food to traditional dishes)
Flavours of Anatolia
Serif can customise more topics for you.
One of his most popular presentations is screening his travel film Istanbul Unveiled ↗ (either the 30-minute short version or the 60-minute full version), with a short presentation on Turkey's geography, history and unique places, and a Q & A. His film and presentations are very engaging.
At the Smithsonian in Washington D.C.:
Exploring Anatolia: A Turkish Odyssey
All-Day Program with Lunch
Saturday, June 23, 2018 – 9:30 a.m. to 3:30 p.m.
Please click here for details ↗.
Istanbul Unveiled
Evening Program
Thursday, June 21, 2018 – 6:45 p.m.
Please click here for details ↗.
—–oOo—–
—–oOo—–
Serif's award-winning travel film "Istanbul Unveiled" was screened at the Boston Turkish Film Festival on November 14, 2015. Serif personally made a presentation after the screening.
Saturday, November 14, 2015 – 7:00 pm
Goethe-Institut
170 Beacon Street, Boston
—–oOo—–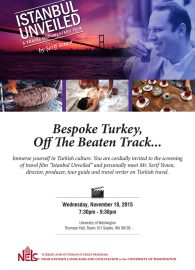 Wednesday, November 18, 2015
7:30pm – 9:30pm
University of Washington
Thomson Hall, Room 101
Seattle, WA 98195
Organisation by
University of Washington
Ottoman and Turkish Studies Program
Near Eastern Languages and Civilization Department
His most recent lectures at the Smithsonian in Washington D.C.
Serif Yenen delivered two lectures at the Smithsonian Institute on July 23 and 25, 2015. These two lectures were "A Turkish Odyssey" and "In Search of Unique Destinations in Turkey".
July 23, 2015:
Turkish Delights: In Search of Unique Destinations
Evening Program with Reception
Thursday, July 23, 2015 – 6:45 p.m. to 8:45 p.m.
Click Here for More Information ↗
July 25, 2015:
Anatolia: A Turkish Odyssey
All-Day Program
Saturday, July 25, 2015 – 9:30 a.m. to 4:00 p.m.
Click Here for More Information ↗