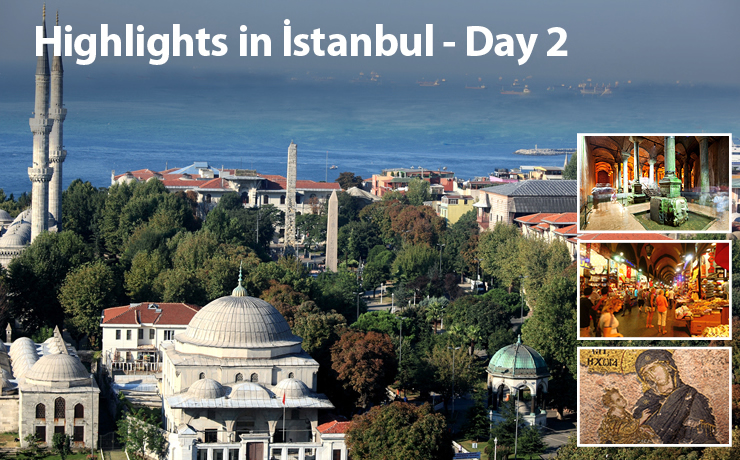 Walking Tour of Highlights in Istanbul – Day 2
Istanbul has such a diverse and rich history. It has been the capital of three great empires; the Roman, Byzantine and the Ottoman. Although it is not the official capital anymore, it is still the cultural capital of the country.
Visitors would need many days to explore Istanbul. Seeing the main attractions in Istanbul would not fit in one day, that's why a second day is recommended. On this day the highlights below can be visited:
Turkish and Islamic Arts Museum (Closed on Monday)
Hippodrome
Basilica Cistern
Egyptian – Spice Bazaar
Chora Monastery – Kariye Museum (Closed on Wednesday. This requires transportation. Taking a taxi might be a good idea.)
Cruise on the Bosphorus by public boat.
Highlights:
See the remnants of the three great empires together on the same tour.
Experience the religious, commercial and social aspects of history together.
Learn about all these places from Serif Yenen, who is the author of one of the best cultural guidebooks of Turkey: Turkish Odyssey.
Serif will give you an orientation and overview on the map.
No crowds, no queues! Authorized professional tour guides have priority ticket booths.
You can ask all the questions you like.
You can bring your children. As a father of three children, I will find a way to approach to them.
Serif will recommend you good local restaurants.
Only if there is interest, Serif will provide personal shopper services ensuring hassle-free purchasing and fair prices.
In the Spice Bazaar area, go to the backstreets.